ATARI'S JAGUAR (October 1993-1995)
The first 64-bit system.... just not a very good one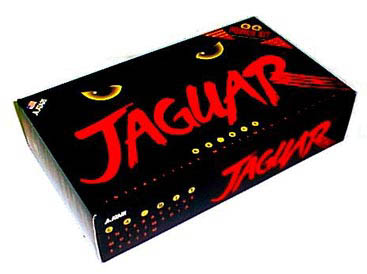 Yup! It's true! This is the first 64-bit system ever, the Atari Jaguar. Too bad it had just over 50games released for it and this thing is basically just a poor man's Super Nintendo anyways. The awesome Tempest 2000 game is the only thing that this system alive in it's first year. Owners would go for months without a new game released and it didn't help matters when Rayman was delayed several times before its release in June 1995 (Just when the Sega Saturn and Sony Playstation were making news).

There's even a poorly supported 790meg JaguarCD, this Jaguar add on only had around 10games for it including a poor remake of the Atari Lynx classic, Blue Lightning. If you look hard enough too you'll find newer releases for the Jaguar like SkyHammer and BattleSphere (expect to pay big bucks for em though). The Jaguar is a good system for game collectors but not for anybody else.
Rating: 39/100 good classic remakes but not much else.
RARE SCALE: 7/10 this system bombed big time with less than 500,000 sold, it's not Super Rare but it's very uncommon.
COOL Jaguar TOYS
Jaguar CD
......... maybe this isn't so cool?

Jag Contoller
The Jag Controller is loaded with buttons and lots of em are absolutely unnecessary.
Good points:
*Most games feature build in save features for high scores.

Bad points:
*this is a 64-bit system?? Can't be? It sucks!
Common JaguarGames:
Cybermorph
Dinodudes
Raiden
Doom
Tempest 2000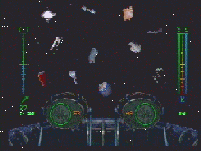 Rarest JaguarGames:
Defender 2000
Iron Soldier 2
Sky Hammer
Battleshpere
WORMS
Zero 5

Top Ten
(Tempest still beats out Rayman. Remember that I only own 14 Jaguar games, so some bad ones make the list too)
#1 TEMPEST 2000
2. RAYMAN
3. CANNON FOLDER
4. RAIDEN
5. CYBERMORPH
6. ALIEN VS. PREDATOR
7. IRON SOLDIER
8. DOOM
9. WOLFENSTIEN 3D
10. KASUMI NINJA

Disappointing: DINO DUDES
Worst: DRAGON
Underrated: ???????
Please visit my guestbook!, and then email me... and give me money!