ATARI LYNX (1989-1992)
The first colour portable system and it's 16-bit too!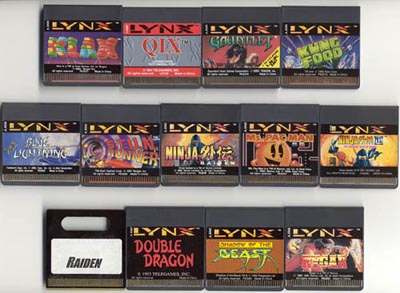 StarSoldier's Lynx Collection, Raiden is actually a late release in 1999 so that's why it looks so funny.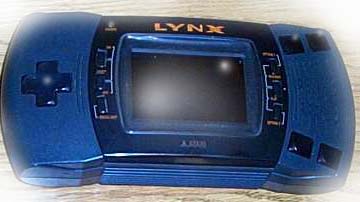 "You can tell Atari is pissed off now!" They released a system far superior to the weak black and white Gameboy, it was called the Atari Lynx. The games looked incredible (they were 16-bit after all) but sadly, there just wasn't enough of them to go around or the big names either to keep it alive in the long run. Also the size of the Lynx is hardly portable, it was the size of four Gameboy Colour's.

If that wasn't enough the Lynx could eat battery life in under four hours, and it needs six AA's of them to run. Althought, anybody who is Left Handed will love the lynx's filp screen feature, so the unit can be reserved (name any system that supports 'Lefties'). Buy one just to see what Ninja Gaiden was like in the arcades. There's still some hardcore game developers that still make games for the ol' Lynx, visit www.telegames.com and see for yourself.
Rating: 40/100 cool then, outdated now.
Rare Scale: 5/10 this system is cheap but not too wide spread.
Common Lynx games:
???????

Rarest Lynx games:
Ninja Gaiden I & III
Raiden
S.I.M.I.S.
T-Tris
Top Ten (I only own a few of these games so some bad ones made the list too)
#1. KLAX
2. BLUE LIGHTNING
3. NINJA GAIDEN
4. MS. PAC MAN
5. NINJA GAIDEN III
6. STUN RUNNER
7. RYGAR
8. DOUBLE DRAGON
9. QIX
10. RAIDEN
Disappointing: KUNG FOOD
Worst: BATMAN RETURNS
Underrated: NINJA GAIDEN
Please visit my guestbook!, I'm sooo lonely!