NINTENDO GAME BOY (1989-1999)
was released in 1989 AND IT'S STILL GOING!!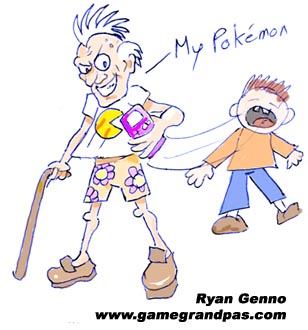 Remember that big bulky white Gameboy with only 4shades of black and white? Remember the 30% smaller Gameboy pocket? Although Nintendo will no longer make these old Gameboys anymore, the Gameboy itself is easily the most successful system of all time. With big hits like Tetris, Zelda, and of course Pokemon (we can't forgot all those kids out there) it's no wonder it's still selling like crazy.

Nintendo isn't stopping there, they making the new 32-bit Gameboy called the Gameboy Advance and yes; it will still play all those old Gameboy games of yours too. So get any Gameboy but don't get over broad and get more than one, that's going too far I think.
Rating: 78/100 the best ......and only portable system around so far.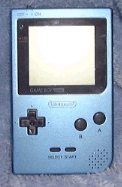 Rare scale: 0/10 it hard not to find one, only the limited Ice Blue GBpocket is rare... I guess.
Game Boy 1989-1998 (White, multi-colour casing, black and white screen, 8-bit)
Game Boy Pocket 1996-1999 (Silver, multi-colour casing, black and white, 8-bit)
Game Boy Color 1998-???? (Purple, multi-colour casing, with 56colours, 8-bit)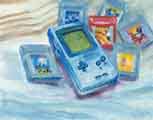 Common GBgames:
Tetris
Pokemon
Tennis
Alley Way

Rarest GBgames:
Mega Man 3, 4, and 5
Mario's Picross
Kid Icarus

Top Ten (Tetris beats out Pokemon, but Pokemon is still strong)
#1 TETRIS DX
2. ZELDA: Oracle of Seasons
3. ZELDA: Link's Awakaning
4. POKEMON Red
5. SUPER MARIO BROS. DX
6. SUPER MARIO LAND 2
7. METRIOD II: Return of Samus
8. BIONIC COMMANDO
9. FINAL FANTASY ADVENTURE
10. POWER QUEST
Disappointing: MORTAL KOMBAT 4
Worst: DOUBLE DRAGON 3
Underrated: BIONIC COMMANDO
Go to GBC REVIEWS

GO TO GAMEBOY ADVANCE INFO
Please visit my guestbook!, .....and watch the Simpsons! Great show.