55 ASTEROIDS (Atari, 1992)
Cool rapid fire feature and new music are added to this classic game.
For 1player only
graphics: 5
sound: 6
gameplay: 5

78 BIONIC COMMANDO (Capcom, 1992)
Yes! There is another! A great spin off the NES classic. Looks more like a anime game than a World War II wanna be this time but your mission is still the same as you go behind enemy lines to rescue a missing soldier named Super Joe. Another great action platformer by Capcom.
For 1 player only
graphics: 6
sound: 7
gameplay: 8

71 BIONIC COMMANDO: Elite Forces (Nintendo/Capcom, 2000)
There is a lot improved in this version of Bionic Commando like the option to choose between a men or a women, improved graphics and a battery back up feature to contiune your game for later too but the neutral towns are missing from the other versions.
I liked the originals better than this remake but it was a good try considering that Capcom didn't help produce it this time.
*Battery back up game
For 1player only
graphics: 7
sound: 6
gameplay: 6
NEW!!
34 BLASTER MASTER BOY (Sunsoft, 1991)
Another bitter disappointment from this series. Plays like a hard to control game of Bomberman and not Blaster Master on NES which wouldn't be so bad if it wasn't so slow. Not a fun game.
For 1player only
graphics: 4
sound: 4
gameplay: 4

62 BONK'S ADVENTURE (Hudson Soft, 1992)
Fun but far too easy.
For 1 player only
graphics: 7
sound: 5
gameplay: 6

51 BONK'S REVENGE (Hudson Soft, 1994)
It's too weird this time because of Bonk's strange new transformations.
For 1 player only
graphics: 5
sound: 5
gameplay: 7

52 CASTLEVANIA (Konami, 1989)
It's a very basic Castlevania game with only four linear levels and slow overall gameplay. Could have been better.
For 1player only
graphics: 5
sound: 5
gameplay: 5
NEW!!
92 CASTLEVANIA: Circle Of The Moon (Konami, June 13, 2001)
One of the premiere games for the new Gameboy Advance is this awesome action/RRG. The CastleVania series now returns back to it's 2D roots and it's plays alot like the acclaimed CastleVania Symphony of the Night on Playstation.
Nathan Graves tries to help his Master and his son to prevent the resurrection of Count Dracula but they are too late and they get split at the start of the game and Nathan's lone adventure then begins.
The looks like a cross between Super CastleVania 4 and CastleVania Symphony of the Night because of it's 2D nature.
The music is a mixture of new and old stuff.
A great game for fans of the series because it includes a little of everything from all of the past games.
*GameBoy Advance only
*Battery back up game
For 1player only
graphics: 8
sound: 7
gameplay: 9

63 CASTLEVANIA II: Belmont's Revenge (Konami, 1993)
This is more like it. This Castlevania lets you choose the world you start on from four differents levels. Not a easy game but it was still better then the first one on Gameboy.
For 1 player only
graphics: 6
sound: 5
gameplay: 6
NEW!!
54 CASTLEVANIA LEGENDS (Konami, 1995)
This is the story of the original Belmont female who started it all. The game is fairly easy and is too short but if you are a true CastleVania fan than you gonna play this regardless.
For 1 player only
graphics: 6
sound: 5
gameplay: 6

68 DONKEY KONG (Nintendo, 1994)
Kinda plays like the old Donkey Kong from 1981, but with way more levels. If you loved the classic then you'll love this upgrade.
*Battery back up game
*Super Gameboy recommend
For 1player only
graphics: 7
sound: 5
gameplay: 5

64 DONKEY KONG LAND (Nintendo/Rare, 1995)
It's can't compare to the 16-bit version.
*Battery back up game
*Super Gameboy recommend
For 1player only
graphics: 7
sound: 5
gameplay: 7

69 DONKEY KONG LAND II (Nintendo/Rare, 1996)
Ditto.
*Battery back up game
*Super Gameboy recommend
For 1 player only
graphics: 6
sound: 6
gameplay: 7

67 DONKEY KONG LAND III (Nintendo/Rare, 1997)
yup.
*Battery back up game
For 1 player only
graphics: 6
sound: 6
gameplay: 7

11 DOUBLE DRAGON 3 (Acclaim, 1993)
The enemies rule in this game, you don't. An awful game with poor programming.
For 1player only
graphics: 3
sound: 3
gameplay: 0

78 FINAL FANTASY ADVENTURE (Square, 1992)
This is actually 'the Serert of Mana prequel' for the Gameboy. A great action RPG that no Gameboy owner should be without.
*Battery back up game
*Very Rare GB game
For 1player only
graphics: 5
sound: 5
gameplay: 7

61 FINAL FANTASY LEGEND (Square, 1991)
a very basic RPG with only one save file. Get it anyways.
*Battery back up game
For 1player only
graphics: 3
sound: 3
gameplay: 6

63 FINAL FANTASY LEGEND II (Square, 1992)
Better RPG this time.
*Battery back up game
*Rare GB game
For 1 player only
graphics: 3
sound: 4
gameplay: 7

67 FINAL FANTASY LEGEND III (Square, 1993)
A more in depth story finishes the Final Fantasy Legend series on Gameboy. Unfortunately, we may never see another.
*Battery back up game
*Very Rare GB game
For 1player only
graphics: 4
sound: 4
gameplay: 8

60 GALAXIAN/GALAGA (Nintendo/Namco, 1994)
Good old school shooting stuff. Galaxian is extremely outdated but Galaga is always a fun game to have.
For 1 or 2players
graphics: 5
sound: 5
gameplay: 5

64 GARGOYLES QUEST (Capcom, 1990)
A solid action/RPG game in the Demon world.
For 1player only
graphics: 7
sound: 5
gameplay: 7

65 GRADIUS: INTER ASSAULT (Konami, 1993)
Nemesis was a bit better I believe but this 2meg game was still fun. The 5levels are fairly long and quite tough too, but not impossible.
For 1player only
graphics: 7
sound: 5
gameplay: 7

65 KID ICARUS (Nintendo, 1992)
Hey! I remember this game from the NES. Fun game!
For 1player only
graphics: 6
sound: 6
gameplay: 7




74 MEGA MAN (Capcom, 1991)
Pretty good translation of the colour NES version. BombMan and GutsMan are missing in this game but the usual four levels are altered from their NES counterpart to offer a different experience for Mega Man fans.
*Million Seller re-release*
For 1player only
graphics: 7
sound: 8
gameplay: 6

68 MEGA MAN II (Capcom, 1992)
more of the same of course but Rush the robo dog is now in the game.
*Million Seller re-release
*Rare Gameboy game
For 1player only
graphics: 6
sound: 4
gameplay: 6

72 MEGA MAN III (Capcom, 1993)
A great series gets another game. You can now use the Mega Buster weapon in the thrid installment of GB Megaman.
*Very Rare GB game
For 1player only
graphics: 6
sound: 5
gameplay: 5

70 MEGA MAN IV (Capcom, 1994)
The graphics are getting better here and Mega Man can now buy various parts too.
*Very Rare GB game*
For 1player only
graphics: 7
sound: 6
gameplay: 6

78 METROID II: The Return of Samus (Nintendo, 1991)
Yeah! Samus returns to destroy the evil Metroid Queen now their homeworld in this adventure/action game. An excellent game!
*Battery back up game
For 1player only
graphics: 7
sound: 7
gameplay: 8
NEW!!
65 MIDWAY GREATEST HITS: MOON PATROL and SPY HUNTER (Midway, 2000)
I love Moon Patrol and it even looks great on the small screen. Spy Hunter is overrated unfortunately, and is even worse on the Gameboy Color. There should be more games though.
For 1 or 2players
graphics: 7
sound: 5
gameplay: 6

42 MS. PAC MAN (Namco, 1992)
Just like Pac Man for Gameboy, this game belongs in colour.
For 1player only
graphics: 3
sound: 4
gameplay: 4

68 MS. PAC MAN SPECIAL Color Edition (Namco, 2000)
A great game when you're doing well. Also has the game Super Pac Man too, which is pretty good too. Would have scored higher if there was a save feature build it. I would wait for the Gameboy Advance game of Ms. Pac Man/Super Pac Man turns out.
For 1 player only
graphics: 5
sound: 4
gameplay: 8

45 MORTAL KOMBAT 4 (Midway, 2000)
Some games just don't belong on 8-bit. Mortal Kombat is one of them.
For 1player only
graphics: 4
sound: 5
gameplay: 3

72 NEMESIS (Ultra, 1990)
This is the Gradius game on the Gameboy with 5gueuling levels to master. Great for fans of the Gradius series like me.
For 1 player only
graphics: 7
sound: 7
gameplay: 7

70 OPERATION C (Ultra/Konami, 1990)
Plays just like a Contra game on NES but there are now only 4levels. Still a great game nonetheless.
For 1player only
graphics: 6
sound: 5
gameplay: 7

36 PAC MAN (Nacmo, 1992)
It just does not feel the same in black & white. I actually liked the Atari 2600 version better than this.
For 1player only
graphics: 2
sound: 4
gameplay: 3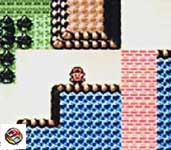 84 POKEMON GOLD OR SILVER (Nintendo/Gamefreak, 2000)
Other than the colours added to the Gameboy Color it feels like the same old Pokemon game from two years ago though. Now there are 250pokemon to find in these games.
*Battery back up game
For 1player only
graphics: 5
sound: 5
gameplay: 9

86 POKEMON: RED OR BLUE (Nintendo/Gamefreak, 1998)
a great new spin on RPG's and this game started the whole Pocket Monster craze.
*Battery back up game
For 1player only
graphics: 5
sound: 5
gameplay: 9

86 POKEMON YELLOW (Nintendo, 1999)
it's the same game like Pokemon Red and Blue but the little yellow rat follows you around this time and a little bit of colour as been added for the GameBoy Color owners.
*Battery back up game
For 1player only
graphics: 6
sound: 5
gameplay: 7

77 POKEMON PINBALL (Nintendo/Game Freak, 2000)
A cool pinball games where you try to catch all the 151Pokemon again. Its a lot harder than it looks.
*Battery back up game
*Rumble game
For 1player only
graphics: 5
sound: 5
gameplay: 8

77 POWER QUEST (Sunsoft, 1999)
A fighting game that plays pretty well even with only two buttons. Select from five different toy robots and earn experience along the way in schoolyard battles.
For 1 or 2players
graphics: 7
sound: 6
gameplay: 8

47 REN & STIMPY: Space Cadets (THQ, 1992)
Boring action game with nothing new.
For 1player only
graphics: 5
sound: 4
gameplay: 4

51 REN & STIMPY: VEEDOITS (THQ, 1992)
Better! but not by too much. Plays just like the Super Nintendo game of the same name.
For 1player only
graphics: 5
sound: 5
gameplay: 5

58 R TYPE (Irem, 1990)
Get the turbografx-16 version instead. Levels 4 and 5 are missing from the arcade game and the game looks questionable.
For 1player only
graphics: 6
sound: 5
gameplay: 7

60 R TYPE II (Japanese)
Not a huge improvement and where is level 4??
For 1player only
graphics: 6
sound: 4
gameplay: 7

71 R TYPE DX (Nintendo/Irem, 2000)
Two great R type shooting games in one package but they are not the best translations in the world unfortunately. R Type is actually just the older gameboy titles of R Type and R Type II (R Type II wasn't released in here originally) but now they are in colour and you can even save your high scores and contiune your progress thanks to a level select feature.
*Battery back up game
For 1player only
graphics: 7
sound: 5
gameplay: 9

54 SAGAIA (Taito)
*Japanese*
Not as good as the 32-bit and 16-bit versions of Darius, but it's cool to get fully powered up. I miss the level selects and the good music from the other version like the Sega Genesis game and the Sega Master System game.
For 1 player only
graphics: 7
sound: 4
gameplay: 6
NEW!!
40 SAMURAI SHODOWN (Takana/SNK, 1994)
The super deformed remake of a arcade legend. It just looks silly.
For 1 or 2players.
graphics: 2
sound: 5
gameplay: 6

53 SIMPSONS: Escape From CAMP DEADLY (Acclaim, 1990)
A hard little action title.
For 1player only
graphics: 6
sound: 5
gameplay: 4

49 SOLAR STRIKER (Nintendo, 1989)
A simple shooter that was fun for a couple of days but that's it.
For 1 player only
graphics: 5
sound: 6
gameplay: 4

38 SPACE INVADERS (Nintendo/Taito, 1997)
a very standard arcade game that bores too quickly today. Works great on the Super Gameboy though!

40 STREET FIGHER II (Nintendo/Capcom, 1994)
With only two buttons on the Gameboy itself, choppy animation, and only 9fighters, this is not really worth picking up. I wish there was NES version instead of this awful fighter.

84 SUPER MARIO BROS. DX (Nintendo, 2000)
The awesome remake of the original Super Mario Bros. from the NES with all new modes like time trials, the complete Super Mario Bros. 2 (Japanese game) VS. mode and of course classic gameplay.
*Battery back up game
*Game Boy colour only
For 1 or 2players
graphics: 7
sound: 7
gameplay: 7

70 SUPER MARIO LAND (Nintendo, 1989)
Just like the original Super Mario Bros. in a way on the NES but there are only 12levels.
For 1player only
graphics: 5
sound: 6
gameplay: 7

84 SUPER MARIO LAND 2: 6golden coins (Nintendo, 1992)
Cool sequel that introduced the evil Wario. Kinda looks like Super Mario World.
*Battery back up game
For 1player only
graphics: 7
sound: 6
gameplay: 9

70 TETRIS (Nintendo not Atari, 1989)
A additive puzzle that came packed in with the original Gameboy. Still a classic that is still on high demand.
For 1 or 2players
graphics: 4
sound: 9................. unforgettable Russian music!
gameplay: 7

65 TETRIS BLAST (Nintendo/Bullet Proof, 1995)
It's good but it's also a little confusing at times.

BEST GAMEBOY GAME!!
95 TETRIS DX (Nintendo, 1999)
"Now we can finally save our high scores!" Although I loved the original Tetris for the Gameboy there was no save option to record your best score after playing the A Type game for hours so this alone is a welcome change but don't worry, Nintendo added even more stuff to already great game.
Tetris DX was specially for the new Gameboy Color system in Fall 1999 so there are blight and colourful looking backdrops with scrolling backgrounds that are not too destracting when you're playing a game. There are even cool screen saver if you leave the game alone for a bit that slow off the new colour features of the Gameboy Color.
The modes in Tetris DX includes Marathon, Time Attack, 40Lines and Vs. Com and Vs. Human options. Marathon is just like the old Type A mode from the older Tetris.
The only downside to the new Tetris here is the awesome Russian music is now gone and replaced with three awful new music tracks that really shows off the poor sound quality of the Gameboy Color which was a dumb move by Nintendo.
Perhaps the coolest thing about Tetris DX is that it's fully compatible with the all gameboy's like the Black and White Gameboy(s), Super Gameboy and of course the Gameboy Color it was designed for.
One of the coolest games ever gets the improvements it needed on the small screen. If you love Tetris then this is ONE to get.
*Battery back up game
*Rare Gameboy game
For 1 or 2players
graphics: 5
sound: 2
gameplay: 9

59 TEENAGE MUTANT NINJA TURTLES: Fall of the Foot Clan (Ultra, 1990)
it's ok.
For 1player only
graphics: 6
sound: 6
gameplay: 7

54 TEENAGE MUTANT NINJA TURTLES 2
It's very average.
For 1player only
graphics: 5
sound: 5
gameplay: 5

50 WARIO'S BLAST (Nintendo/Hudson Soft, 1995)
It's bomberman style.

63 WARIO LAND: Super Mario Land 3 (Nintendo, 1994)
Disappointing game that was suppose to be the sequel to Super Mario Land 2.
*Battery back up game
For 1player only
graphics: 7
sound: 5
gameplay: 7

69 WARIO LAND II (Nintendo, 1999)
It's better but there is no real challenge in this game.
*Battery back up game
For 1player only
graphics: 7
sound: 6
gameplay: 7

88 ZELDA: Link's Awakening (Nintendo, 1997)
A fun and very challenging Zelda game. Help Link escape a strange island with a strange familiar look.
*Battery back up game
For 1player only
graphics: 6
sound: 6
gameplay: 10

50 ZELDA DX (Nintendo, 1999)
just like the last one but only in colour and that's it pretty much. I would still get this one if you haven't played Link's Awakaning already but other than that the new dungeon just isn't worth the 40bucks though.
*Battery back up game
For 1player only
graphics: 7
sound: 6
gameplay: 7
NEW!!
94 ZELDA: ORACLE Of SEASONS (Nintendo/Capcom, May 2001)
It's always great when another Zelda game comes along but this new Zelda that is one part of a two set series add an environment change to the mix. I also like that there is not too much pressure to get another game if you want to but you may wanna anyways because it's that good of a game. A must for Game boy Color owners!
*Battery back up game
*Game Boy colour only
For 1player only
graphics: 7
sound: 7
gameplay: 9
Agree! Good!