THE NINTENDO ENTERTAINMENT SYSTEM (1985-1994)
The Video game industry is back and with a vengeance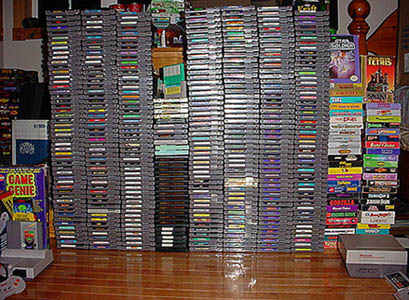 Star Soldier's NES collection!

Mega Man has been in six games, no less, for the Nintendo Entertainment System
"HERE IT IS!" The king of 8-bit and the system that put life back into the video game industry. Nintendo (well known for Donkey Kong at the time) created their own video game system in 1983 called the Famicon, but this new system was only in Japan..... so far. The Nintendo President wanted to release the system to North America, but after the Great Video Game Market Crash in 1984, nobody wanted to sell video games here anymore. Nintendo made a deal with famous toy maker Mattel to help release it in fall 1985 (complete with display units), and the rest is history. I still like this system because most of the games are under 5bucks and they still mostly play great.

If there's any downsides to the NES (short for Nintendo Entertainment System) it's the lack of colours (only 8 at a time) and it's box like design that wasn't always cartridge friendly, which means it could take several tries before you get a game to work (who can forget the constant blicking!?). The NES2 Top Loader system eliminates some of the ploblems of the first NES when it was released in 1993, good luck finding one though. Still, a lot of game series started here and moved on to N64 and PS.
Rating: 83/100 great for beginners or experts alike.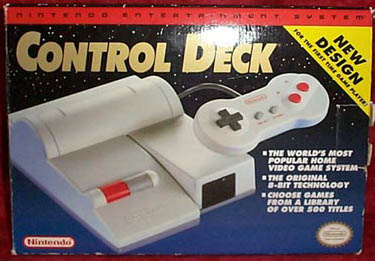 Rare Scale: 5/10 it's harder to find one in mint shape than it was a few years ago. The Top loading NES2 (pictured above) is nearly impossible to find here in Canada.
There are over 800games for the Nintendo, here are the most common ones to stay away from. (Friday the 13th and Dragon Warrior are no longer that common)

SUPER MARIO BROS./DUCK HUNT
R.B.I. BASEBALL
CYBERNIOD
CAPTAIN COMIC
BASEBALL
10 YARD FIGHT
JOHN E. QUARTERBACK
BASES LOADED I & II
Plus here are the rarest Nintendo games to watch out for:
TENGEN'S TETRIS (a black cartridge with a Russian castle in the background, not the ol' grey one)
DRAGON WARRIOR IV (by Enix, a grey cart)
BUBBLE BATH BABES
HOT SLOTS
PEEK A BOO POKER
MENACE BEACH (Color Dreams, a blue cart)
STADIUM EVENTS (a cancelled powerpad game)
ACTION 52 (Active Enterprises, a clear cart)
BOBBLE BUBBLE PART 2 (Taito, a grey cart)
JUNGLE BOOK (Virgin Games, a grey cart)
WARIO'S WOODS (last official NES game)
Top Ten
(man, this was a tough decision and many great games cannot make it in the top ten, but here are the ones that did anyway)
#1. THE GUARDIAN LEGEND
2. SUPER MARIO BROS. 3
3. ZELDA I & II
4. WARIO WOODS
5. METROID
6. CASTLEVANIA III
7. BIONIC COMMANDO
8. MEGA MAN II
9. KIRBY'S ADVENTURE
10. LIFE FORCE

(10-20 here, I had to do it!)
11. TETRIS (TENGEN)
12. SUPER MARIO BROS.
13. BLASTER MASTER
14. RYGAR
15. FINAL FANTASY
16. MEGA MAN
17. MIKE TYSON'S PUNCH OUT!!
18. DRAGON WARRIOR IV
19. BONK'S ADVENTURE
20. RIVER CITY RANSOM
21. SUPER C
22. MEGA MAN III
23. SIMON'S QUEST
24. CONTRA
25. GOONIES II
26. CASTLEVANIA
27. MILON'S SECRET CASTLE
28. TETRIS 2
29. BATMAN RETURN OF THE JOKER
30. DRAGON WARRIOR

Disappointing: THE LAST STARFIGHTER
Worst: SILENT SERVICE
Underrated: THE GUARDIAN LEGEND
Please visit my guestbook!, and then email me... and give me games!