NINTENDO's NINTENDO 64 (1996-2001)
64-bit muscle with nintendo power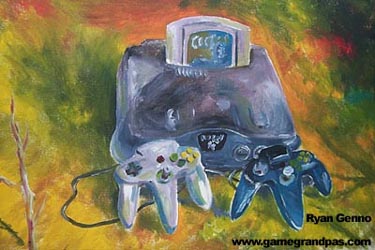 "This is the Nintendogirl!" 'Natilee'

When the Nintendo 64 was released in Japan, it was the fastest selling system ever, selling 500,000units in a month. But it lacked games in the coming months and the Japanese forgot this system when square's FF 7 was released for the PS. In just three months, Nintendo releases the N64 over here, but it's a different story this time. Super Mario 64 wowed everybody and many American Companies (Midway, Lucas Arts) released games for the N64 which kept it alive and selling sometimes better than the rival PS.

The N64 still got hurt by massive delays, Zelda was suppose to come out summer1997 not fall 1998, and 2000 is no exception, Perfect Dark came out May 2000, NOT December 9, 1999 like it was support to. Sadly, Nintendo has no plans to release any new games beyond the second half of 2001 or in 2002. Despites some flaws you won't find better 3D games anywhere else, the N64 kicks a$$ in that department.



System Rating out of 100: 70/100 the new games are quickly running out but there are still 200 games for the system.

COOL N64 TOYS
Rumble Pak
Star Fox 64 introduced the 'feedback' effect making n64games more interactive by making the controller shake. Plugs in the back controller easily.

N64 Contoller
The N64 Controller is HUGE but fairly comfortable. It doesn't feel as good as the Playstation controller but it's really useful for the 3D games.
Common N64games:
War Gods
Dark Rift
Body Harvest
Hexen
Madden 64
Quarterback Club Whatever

Rarest N64games:
Legend of Zelda Ocarina of Time: Gold edition (Nintendo, 1998)
Bust a Move 99 (Acclaim, 1999)
Star Craft 64 (Nintendo/Rebellion, 2000)
Hydro Thunder
Star Soldier Vanishing Earth (Electro Brain, 1999)
Harvest Moon 64
Transformers: Trans Metal

GOOD POINTS
*NO LOADING TIMES (EXCEPT IN DUAL HEROES AND WIPEOUT 64)
*LOTS OF MULTI-PLAYER GAMES
*ORIGINAL CONTROLLER

BAD POINTS
*LACK OF SUPPORT FROM MANY JAPANESE DEVELOPERS
*EXPENSIVE GAMES (20-115, I saw WARGODS for $115 at some places btw. I'm not kidding here.)
*NOT COMPATIBLE WITH OLDER AND POPULAR NINTENDO SYSTEMS
Top Ten (look at this list.... are you surprised at all?)
| | |
| --- | --- |
| 1 | CONKER'S BAD FUR DAY |
| 2 | ZELDA OCARINA OF TIME |
| 3 | ZELDA MAJORA'S MASK |
| 4 | DONKEY KONG 64 |
| 5 | STAR FOX 64 |
| 6 | WWF NO MERCY! |
| 7 | SUPER SMASH BROS. |
| 8 | TETRISPHERE |
| 9 | STAR SOLDIER: VE |
| 10 | CASTLEVANIA: LEGACY OF DARKNESS |
Disappointing: KNIFE EDGE
Worst: HEXEN 64
Underrated: STARSOLDIER: VANISHING EARTH
Please visit my guestbook!, but nobodys forcing ya, so no plessure!