THE ATARI 2600 (1977-1984)
The original king of video games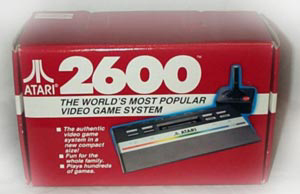 the 2600 was also re-released in 1988
This is what Game Grandpas is all about! It started with me right here with this machine, the Atari 2600 Video Computer System. As you may know, up here in Canada, you can't find a Atari 2600 system in about 95% of game stores here. You are better going to a garage sale or any store that's sell really, REALLY old stuff (but not too old of course) to find your own Atari system. Or you can buy a Atari 7800 (the more powerful 8-bit system that can play almost any 2600 game out there) and forget the 2600 altogether. There is another old Atari system called the Atari 5200, but it never really caught on, and finding one of those can be pretty difficult.

But enough of the upgrades, let's get back to the 2600 itself. Atari sold well over 10million 2600's in the early 80's, and it was just cool to have one back then because of recent arcade hits like Space Invaders and Asteriods now available at home for the first time, so there's tons of 2600's still out there. The controllers only had one button so the games were really simple but this created a problem for some games like Mouse Trap where a extra button would have'd help with the gameplay (opening doors and the Dog mode gets confusing). Be careful, the Atari 2600 really sucks compared to today's standards like the PS2 and GameBoy Advance.
Rating: 42/100 it's really old but despite this it has a large selection of titles.

Rare Scale: 5/10 the atari age as come and gone so it's not has common has it used to be. The Atari 2600 image up there is of the Atari 2600 jr. which is a bit more rare than the woodgrain version.
COOL 2600 TOYS
The 2600 Contoller
The Controller is just a simple black stick if one red button to the side, very basic. Some controllers like the Sega Master System controllers are even backward compatible with the Atari 2600 to limit frustration and add more choices to players.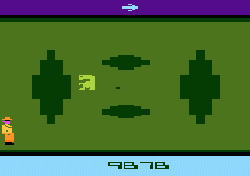 There are over 800games for the system, here are the most common ones:
ASTERIODS
MISSILE COMMAND
COMBAT
YAR'S REVENGE
PAC MAN
E.T.
DEFENDER
SPACE INVADERS
DONKEY KONG
These games should only be a DOLLAR or less.
E.T. and Atari PAC MAN were so bad and so overstocked they crashed the Video Game market in 1984. "Thanks a lot Atari!!"
VERY, VERY RARE GAMES
RIVER PATROL
Q BERT QUBES
HALLOWEEN
CHASE THE CHUCK WAGON
KRAZY KLIMBER
TOOTH PROTECTERS
RUBIK'S CUBE/VIDEO CUBE
SWORDQUEST: WATERWORLD

These games should be around $50-$500 depending on the shape they're in.

Top Ten
(These games are really old but they play pretty good. Nothing as beaten Moon Patrol, yet)
#1. MOON PATROL
2. FROST BITE
3. FROGGER
4. MIDNIGHT MAGIC
5. MS. PAC MAN
6. MEGA MANIA
7. DIG DUG
8. KEYSTONE KAPERS
9. MISSILE COMMAND
10. PRESSURE COOKER
Disappointing: SWORD QUEST
Worst: FINAL APPROACH (Star Master takes a bump up)
Underrated: MOON PATROL
Don't agree with my Top Ten?? Email me!

Go to Atari 2600 REVIEWS
Please visit my guestbook! ...........but you won't will you!