SEGA SATURN (July 1995-1998)
Enter the next generation wars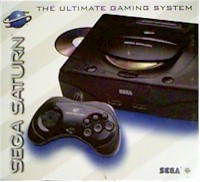 "Daddy! why does it have to die?" Remember when this CD system was still on the market? The 32-bit Sega Saturn got killed by a lot of things: Strong competition from the N64, and Playstation, lack of faint in Sega (32X, Sega CD anyone?), and a weak 3Dengine, those stupid and expensive Memory carts, a 599.99 stater price, Virtua Fighter looking kinda sucky, Bug just sucked!, Sonic Extreme (the answer to Mario64) cancelled............. just to name a few (I could go now). In its run the Saturn had some pretty good Role Playing Games like Panzer Dragoon Saga, Shining Force III, Dragon Force and 2Dgames like Shinobi Legions, Marvel Super Heroes and Astal.

Although the Sega Saturn was considered by many to be a failure in the North American market, the same can not be said in Japan were there are over 500Saturn games release for the Japanese market. Look for unique Japanese games like Raidant Silvergun, Dracula X, and Graduis Gaiden. Plus let's not forget that the Sega Saturn was the first home video game system ever to be online thanks to the NetLink adapter. Now is the time to buy, because it's getting harder and harder to find these games and accessories in the discount bins. Also remember that this game system is NOT compatible with any other Sega system.
Rating: 66/100 a great system for people who can't afford a Playstation.
Rare Scale: 6/10 still kinda common now, but let's see in a few more years.
GOOD POINTS:
*Some of the games may look more grainy, but they're not too different than some of the Playstation games.

BAD POINTS:
*You wanna save your game but your battery is dead and you don't have a expensive save cartridge either.
*Going though those annoying menus all the time.

Common Saturn games:
Virtua Fighter 1 & 2
Virtua Cop
Daytona USA

Rarest Saturn games:
Sonic Jam
Dragon Force
Sega released only 5 SegaSaturn games in 1998, all of them are very rare with limited release. They are:
House of the Dead
Panzer Dragoon Saga
Burning Rangers
Shining Force III
Magic Knight Rayearth (last saturn game)

Top Ten (good luck finding most of these, although PSD is worth the big bucks on Ebay unlike DragonBall GT for Playstation)
#1. PANZER DRAGOON SAGA
2. SHINING FORCE III
3. SATURN BOMBERMAN
4. SONIC R
5. FIGHTERS MEGAMIX
6. SONIC JAM
7. TETRIS PLUS
8. DAYTONA USA
9. BUST A MOVE 2X
10. STREET FIGHTER ALPHA 2
Disappointing: MR. BONES
Worst: TOSHINDEN URA

Underrated: SONIC R/ SATURN GAMES IN GENERAL
Please visit my guestbook!, and visit your local art gallery, they need money!