SEGA'S 32X (1994-1995)
Supercharge your Genesis into CRAP!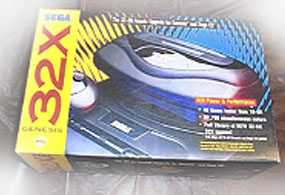 My least favorite cartridge system simply because its too confusing to operate. You got a bunch of wires and connecters with the system itself, and you better have a few hours free because it's gonna take awhile to set up to your Sega Genesis. If that wasn't bad enough some of the Genesis games wouldn't work once it's was hooked up, even though all Sega Genesis games are suppose to work with it on. I lost my Shining Force II save data because of this thing and I'm still jaded.

"It just isn't worth it", there are better 32-bit systems out there 'that's for sure!'. To be fair, I guess, it does certain arcade classics well like Space Harrier and After Burner, plus Virtua Fighter was WAY better than that crappy Virtua Fighter 2 on the Genesis. Put it up if you're only getting it cheap and if you are serious about videogame collecting. Oh! and sure you get everything with it and the Sega32X won't work on the Sega Genesis3 and Sega CDX machines.
Rating: 22/100 it may not be worth the hassel, just to warn you.

RARE SCALE: 6/10 the 32X did sell fairly well for Sega so it's still around, finding a complete 32X with all the wires and box is more difficult though.

GOOD POINTS:
*Hey! At least Sega had the guts to upgrade the Genesis. This made the Super Nintendo look a little less interesting.
*It's 40times faster than the Genesis.

BAD POINTS:
*The 32Xgame's music and sound effects are just as crappy on the 32X has they are on the Genesis.
*It feels like a Saturn downgrade.
*It won't work right all the time and the games to freeze now and again.

TITLE'S OF ALL 32XGAMES (CANADA)
TYPE
36 Great Holes Golf
After Burner complete
BC Racers
Blackthorne
Brutal Above The Claw
Corpse Killer (CD)
Cosmic Carnage
Doom
Fahrenheit (32X CD / Sega CD)
Knuckles' Chaotix (best game)
Kolibri
Metal Head
Mortal Kombat II
Moto Cross Championship
NBA Jam T.E.
NFL Quarterback Club
Night Trap (2 CD's)
Pitfall: The Mayan Adventure
Primal Rage
RBI Baseball '95
Shadow Squadron
Slam City (4 CD's)
Space Harrier
Spider-man's Web of Fire (FINAL GAME, EXTREMELY RARE)
Star Trek: Starfleet Academy (RARE)
Star Wars Arcade
Supreme Warrior
T-Mek (RARE)
Tempo
Toughman Contest
Virtua Fighter
Virtua Racing Deluxe
World Series Baseball
Wrestlemania: The Arcade Game
WWF Raw
Zaxxon's Motherbase 2000

Sport
3D Shooter
Racing
Action
Fighting
FMV shooter
Fighter
3D Shooter
FMV
Adventure
Shooter
3D Shooter
Fighing
Racing
Sport
Sport
FMV
Adventure
Fighting
Sport
3D Shooter
FMV Sport
3D Shooter
Action
Sim
3D Shooter
FMV
Shooter
Action
Boxing
3D Fighting
Racing
Sport
Sport
Sport
Shooter
Common 32x games:
Doom
Cosmic Carnage
Virtua Racing
Star Wars Arcade
Rarest 32x games:
T Mek
Star Trek
Knuckles Choatix
Spider Man: Web of fire (last game on 32X)
Top Ten
(Knuckles stars in his own game, only on the 32X)
#1. KNUCKLES CHAOTIX
2. VIRTUAL FIGHTER
3. AFTER BURNER COMPLETE
4. BLACKTHRONE
5. SPACE HARRIER
6. VIRTUAL RACING DX
7. PRIMAL RAGE
8. MORTAL KOMBAT
9. COSMIC CARNAGE
10. STAR WARS ARCADE
Disappointing: METAL HEAD
Worst: MOTO CROSS
Underrated: AFTER BURNER COMPLETE
Don't agree with my Top Ten?? Email me!

Go to 32XREVIEWS

Please visit my guestbook!, or you'll regret it for the rest of your life!