NINTENDO'S SUPER NINTENDO (1991-1998)
Another 16-bit system but now with more stuff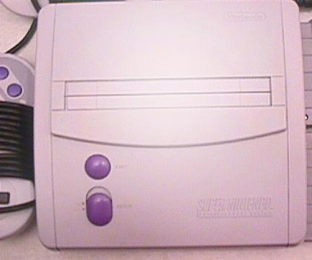 The SNES2

The 16-bit Super Nintendo looked amazing when it first came out, the "Mode 7" (3D scaling) effects blew me away! The way Super Mario World has that cool pixel fade in effect, to the 3Dscaling effects in Politwings. Plus the music was really incredible in games like ActRaiser and Super R Tpye. I was sold on this new Nintendo. If there's any downside it's the systems overall speed (Almost half less than the Sega Genesis and TurboGrafx-16) and weak sports lineup compared to the Genesis (I'm not a gamesports fan anyway so I don't care).

If this system is remembered for one thing, it's that the SNES paved the way for more great RPG's to be more widespread. RPG games like Final Fantasy II, FFIII, EarthBound, Super Mario RPG, and Chrono Trigger were not huge hits but do recieve a good cult following. Nintendo also released a more compact and much lighter Super Nintendo in 1996, it's the same as the old one but now there no pointless serial ports and no eject button either (also pointless anyways). "This system is one of my all time favorites with over 500games available!"

Japanese name of Super Nintendo: Super Famicom
European name of Super Nintendo: Super Nintendo Pal Version

Rating: 87/100 Wario's Woods always keeps me playing for hours.

Rare Scale: 4/10 even the SNES2 is fairly common still, well kinda.
COOL SNES TOYS
Super GameBoy
Plays most of the older GameBoy titles but not the more newer GameBoy Color only games and 32-bit Advance games. The 4shades of colour can be edited and the game borders and be altered too if you like. A nice item to have around.

SNES Contoller
The SNES Controller fits well in the hand and the 8buttons are very useful.
THE FACTS:
| | |
| --- | --- |
| CPU Processor | 65816 (16-bit) |
| Resolution | 514 X 448 |
| On Screen Colour | 256 |
| Max Colours | a lot |
| Sound Channels | 8 |
| Games | 500 |
| Sprite size | 64 X 64 |
| Closest Rival | Sega Genesis |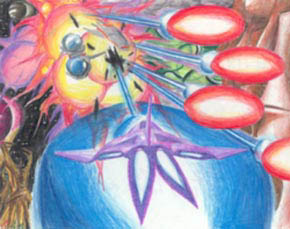 Here's a drawing of one of my favorite shooters: Gradius III
One of the first games for the Super Nintendo.

GOOD POINTS:
*One of the first systems to feature 3D hardware.
*Excellent sound capabilities that rivals CD's.
*The Super Gameboy lets you play the Gameboy games on the SNES!

BAD POINTS:
*Still not that different than the Sega Genesis.
Common SNESgames:
All sports games
Super R Type
Super Mario World
Sim City
Killer Instinct
Battle Clash/Metal Combat

Rarest SNESgames: don't leave em in the discount bin!!
Final Fantasy II & III
Orge Battle (Enix, 1993)
Bobby's World
Dracula X (Konami, 1995)
Wizard of OZ
Mega Man X3 (Capcom, 1995)
Mega Man 7

Top Ten (no surprises here)
#1. WARIO'S WOODS
2. FINAL FASTASY 3
3. DONKEY KONG COUNTRY 2
4. ZELDA A LINK TO THE PAST
5. CHRONO TRIGGER
6. SUPER MARIO WORLD
7. SUPER METROID
8. SUPER PUNCH OUT!!
9. SUPER BOMBERMAN 2
10. LEGEND OF THE MYSTICAL NINJA

Disappointing: NHL 95
Worst: MARIO'S FUN WITH LETTERS
Underrated: GRADIUS III
Please visit my guestbook!, and if you're a pretty girl, here's my #725-ROCK!