NEC'S TURBOGRAFX-16 (1989-1993)
The best looking 8-bit ever, just not 16-bit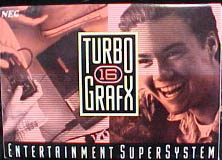 NEC's PC Engine was a huge hit over in Japan and it came to North America in August of 1989 as the TurboGrafx-16 (it looks totally different than the PC Engine), even though it was in reality it was a 8-bit system with two processors, not a true 16-bit machine after all. This information helped to shorten the life of this underrated little system when the word got out. The TurboGrafx (turbo for short) had tons of shooter games like Blazing Lazers, Air Zonk, and Aero Blasters, some of them you won't find anywhere else, plus even Sega also released alot of games for the turbo like Dragon Curse, Space Harrier, and Fantasy Zone (Sega was not doing so well in Japan at the time, so they made several games for NEC).

Don't forget the Turbografx-16CD!! The first ever CD-ROM video game system ever and the first game for that system was Fighting Street, also better know as the original Street Fighter! The CD system was not a huge hit for NEC, but the thing was $650Canadian when it was first introded over here so its no wonder. After that in October 1992, the TurboDuo came out, which played all turbochip, turboCD, and the new SuperCD's all in one. The TurboDuo only last a year before NEC pulled the plug on that system. There was even a portable Turbografx unit in 1990 called the TurboExpress, a very rare unit especially with the TV tuner.

I still like the turbo system enough to give it a passing grade but I don't like how hard it is to find the games now today.

TurboGrafx-16 Rating: 55/100 a fair selection of good titles but go for the TurboDuo system instead if you can.

Rare Scale: 8/10 NEC will not be remembered for their game system, quite rare!
GOOD POINTS:
* the games are just the size of a business card, very portable for the Turbo Express.
* 256 colors on screen at once from 512colours! Even stronger than the Sega Genesis colour palettes.

BAD POINTS:
* to save your games you NEED a turbo booster plus, and to play multi-player games you NEED a turbo tap. Hope ya got the cash?
* saving your game to a turbo booster plus, Turbo CD, Turbo Duo is very limited because the units need to be recharged every two weeks or you'll lose your data. How lame is that?



My high score for Air Zonk was 30, 332, 430 (Top score)
See it at TwinGalaxies.com and search for AIR ZONK
Air Zonk is a futurist shooter staring a robot named Zonk.
Zonk starred in no other games outside the turbo.

Common TG-16games:
Keith Courage (the original pack in game)
Bonk's adventure
China Warrior
Dungeon Explorer

Rarest TG-16games:
Beyond Shadowgate (Duo)
Magical Chase
Bonk III Bonk's Big Adventure (Hucard and SuperCD2)
Super Air Zonk (Duo)
Dungeon Explorer II (Duo)
Fighting Street (CD)
most of them really, buy them all just in case!!

Top Ten
(even if you don't care)
#1 MILITARY MADNESS
2. BOMBER MAN '93
3. BONK'S REVENGE
4. SUPER STAR SOLDIER
5. R TYPE
6. LEGENDARY AXE
7. NINJA SPIRIT
8. AERO BLASTERS
9. BLAZING LAZERS
10. PARASOL STARS
Disappointing: DARKWING DUCK
Worst: FALCON
Underrated: VEIGUS:TG
Turbo Grafx-16 CDgames: Complete list
Buster Bros.
Cosmic Fantasy II (Rare)
Exile
Fighting Street (Rare)
Final Zone II
It Came from The Desert
Jack Nicklaus Turbo Golf CD
JB Harold's Murder Club
Magical Dinosaur Tour
Monster Lair
Last Alert
Lords of the Rising Sun
Sherlock Holmes
Splash Lake
The Addams Family
Valis II
Valis III (Rare)
Vasteel (Rare)
Y's Book I&II
Y's Book III (Rare)