DOWN AND DIRTY REVIEWS: NEC'S TURBOGRAFX-16
If you love shooters you'll love the turbografx-16 dude. Too bad most turbo games lack replay value because no games include battery back up (but some will save to a back up unit like the TurboDuo). Still alot of good games here.
TURBO GRAFX-16 CD - Will only work on a TurboCD or TurboDuo.
SUPER CDROM2 games - Will only work on a TurboDuo.
The scores are out of 100

Score / Name
78 AERO BLASTERS (Hudson soft/Kaneko, 1991)
A great arcade translation of a awesome shooter with fast action and great graphics. A very tough game with only 5contiunes and 6 long stages with loads of on screen enemies and mini-bosses. Recommend!
For 1 or 2players.
graphics: 8
sound: 8
gameplay: 6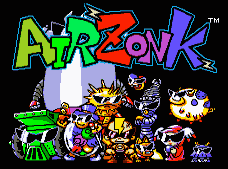 71 AIR ZONK (Hudson Soft/Red, 1993)
One crazy and action packed shooting game with cartoony graphics and lots of strange characters. You're Zonk, a super cyborg send by Bonk himself to stop the King Drool of the future. Unfortunately it's a really short game with only 5levels and unlimited contiunes..........I AM THE WORLD'S BEST AIR ZONK PLAYER!!!!!!!!!!!!!!!!!!
I was in EGM #45 and I got the score of 30, 332, 430 (Top score)
See it at TwinGalaxies.com and search for AIR ZONK
*Rare TurboGrafx game*
For 1player only.
graphics: 8 ............. very cartoony, but it looks like a Super Nintendo game.
sound: 6
gameplay: 8

63 ALIEN CRUSH (Hudson Soft, 1989)
A cool looking pinball game on a alien game table with 4bonus levels.
For 1player only.
graphics: 8
sound: 6
gameplay: 7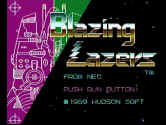 78 BLAZING LAZERS (Hudson soft/ Compile, 1989)
Loads of firepower and 9 huge levels, but it's just way too easy for a shooter. Still recommend!
*Rare TurboGrafx game*
For 1player only.
graphics: 7
sound: 7
gameplay: 8 ............. loads of weapons and defensive weapons.

65 BLOODY WOLF (Data East, 1991)
Similar to Konami's Contra but this game features some knife combat as well.
For 1player only.
graphics: 6
sound: 5
gameplay: 6

70 BOMBERMAN (Hudson Soft, 1990)
A improved upgrade to the NES classic that's now has a multi-player game as well and a huge 48level single player game.
*Save option available.
For 1 to 5players.
graphics: 2
sound: 4
gameplay: 8

85 BOMBERMAN 93 (Hudson Soft, March 1993)
Weak graphics but amazing mayham. Excellent multi-player in battle mode with 10 differents levels to try. One player mode is a little dry.
For 1 or 5players.
graphics: 4
sound: 4
gameplay: 9

78 BOMBERMAN '94 (Hudson Soft, 1994)
*Japanese*
Features new kangaroo buddies.
For 1 to 5players.
graphics: 5
sound: 4
gameplay: 8

78 BONK'S ADVENTURE (Hudson Soft/Red, June 1990)
A very fun game featuring a head-butting caveman. The only problem with Bonk's Adventure is that it was far too easy.
For 1player only.
graphics: 8
sound: 8
gameplay: 6

79 BONK'S REVENGE (Hudson soft, 1991)
maybe the best Bonk game with tons of secrets and bonus levels all over the place. You can now fly, change into a crab and collect 50 slimey's or higher on a level then when you beat the boss you will wrap pass one whole level which makes going to the bonus levels worthwhile.
For 1player only.
graphics: 5
sound: 6
gameplay: 8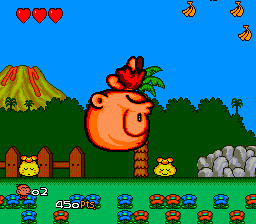 63 BONK III: Bonk's Big Adventure (Hudson Soft, June 30, 1993)
This new 8meg Bonk game looks great with 7 easy levels and boring exploring. The huge Bonk power-up makes no real sense in this game, it just looks kinda cool I guess. Despite that, it's a very unique game because of the two player option and this was the last TurboGrafx-16 HuCard game ever relese so don't miss it!
*Extremely Rare TurboGrafx game!!!!*
For 1 or 2players.
graphics: 8
sound: 5
gameplay: 6

NEW!!
64 BRAVOMAN (Namco, 1990)
A super hero with long limbs and a nemesis by the name of Dr. Bomb. A little on the hard side with 22levels and only one life and 4contiunes.
For 1player only.
graphics: 6
sound: 5
gameplay: 6
NEW!!
60 BUSTER BROS. (Capcom, 1992)
The strange bubble destroying game with over 50levels from around the world. Very repeatitive, unfortunately.
For 1 or 2players.
graphics: 5
sound: 6
gameplay: 6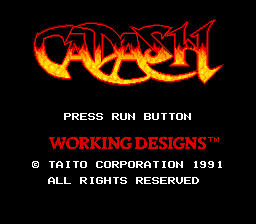 65 CADASH (Working Designs, 1992)
A good mixture of Action and Role Playing. Too bad there are only five levels. This game is also for the Sega Genesis, if you can find it?
*Rare TurboGrafx game*
For 1 or 2players.
graphics: 7
sound: 4
gameplay: 8

48 CHAMPION'S FOREVER BOXING
For 1 or 2players.
graphics: 7
sound: 8
gameplay: 3

47 CHINA WARRIOR (Hudson Soft, 1989)
A very limited beat em up starring some fighter similar to Bruce Lee. The characters are huge but stiff looking.
For 1player only.
graphics: 6
sound: 5
gameplay: 3

51 CYBER CORE (ICS, 1990)
It's way WAY too hard. Just another boring shooter anyways, best to aviod.
For 1player only.
graphics: 6
sound: 4
gameplay: 6

25 DARKWING DUCK (Radiance, 1992)
A virtually unplayable game with limited forms of attack to kill your enemies. Also the Disney cartoon was overrated.
For 1player only.
graphics: 7
sound: 4
gameplay: 3

17 DEEP BLUE (NCS, 1990)
Yet another shooting game but this awful game takes place in the ocean. The 2meg game is way too cheap because you lose your all power-ups once your hit, which happens offen. Your fish ship sucks because it's way too slow and your enemies are extremely quick to add to your worry.
For 1player only.
graphics: 6
sound: 4
gameplay: 3

66 DEVIL'S CRUSH (1990)
the medieval style pinball game with great control. This game is also on the Sega Genesis under the name Dragon's Fury.
*Rare TurboGrafx game*
For 1player only.
graphics: 7
sound: 5
gameplay: 8

33 DOUBLE DUNGEONS (1990)
A totally boring RPG much like the Might and Magic series!
For 1 or 2players.
graphics: 4
sound: 3
gameplay: 6

70 DRAGON'S CURSE (Hudson Soft, 1990)
It's Wonder Boy III: Dragon's Trap from the Sega Master System with minor graphical improvements. A cute game with different animal powers and a long quest to regain your original human form. Fun and challenging for all ages.
For 1player only.
graphics: 5
sound: 5
gameplay: 7

68 DRAGON SPIRIT (Namco, 1989)
Another shooter on the Turbo featuring a fire breathing dragon and 8levels. The ending was kinda cool because it had an Namco retrospective.
For 1player only.
graphics: 6
sound: 7
gameplay: 6

27 DROP OFF (Data East, 1991)
Never heard of it?? Good! Plays like break out for the Atari 2600 with only 45levels and crappy music.
For 1player only.
graphics: 3
sound: 2
gameplay: 2 ........... where are the power ups??

69 DUNGEON EXPLORER (Hudson Soft, October 1989)
Guautlet?? A fun game with lots of characters and 14levels.
For 1 to 5 players.
graphics: 7
sound: 6
gameplay: 8

14 FALCON (1992)
poorly made 3Dflight game that's far too choppy looking. Is it just me or is the second mission in this game impossible?? Forgettable!
For 1player only.
graphics: 3
sound: 3
gameplay: 3

50 FANTASY ZONE (Sega, 1989)
a classic Sega Master System game gets a graphical face lift on the turbo. A very short shooting game.
For 1player only.
graphics: 5
sound: 8
gameplay: 6
56 FATAL FURY SPECIAL (Hudson Soft/SNK, 1994)
*Arcade Super CD-ROM2 Japanese*
For 1 or 2players.
graphics: 7
sound: 7
gameplay: 6

NEW!!
37 FIGHTING STREET (Hudson Soft/Capcom, 1989)
*TurboGrafx-16 CD game.
The first ever North American CD console game is this very disappointing translation of the Street Fighter 1. The main problem here is the unresponsive controls and the really bad voice samples. For serious game collectors only.
*Save option available.
*Rare TGCD game*
For 1 or 2players.
graphics: 7
sound: 4
gameplay: 6

67 FINAL LAP TWIN (Namco, 1990)
Yup! This is the first ever Driving/RPG ever made. Race people across all sorts towns to gain experience and important items, or just race in the arcade modes. Unique!
For 1 or 2players.
graphics: 5
sound: 5
gameplay: 8
72 FORGOTTEN WORLDS (NEC Avenue Ltd./Capcom, 1992)
*Super CDROM2 game.
The intense arcade shoot em up comes to the TurboDuo minus the two player mode and some graphical downgrade but it's still a great shooter nonetheless.
*Save option available.
For 1player only.
graphics: 7
sound: 8
gameplay: 7




64 GALAGA '90 (Namco, 1989)
Actually this is Galaga '88 from the arcades and the PC Engine but was renamed for its Turbografx-16 release. This game features improved graphics from the 1980's game and the ability to earn a triple fire super ship. One of the more sought after games for the TurboGrafx-16 and with good reason. Great for retro fanatics.
*Rare TurboGrafx game*
For 1player only.
graphics: 7
sound: 5
gameplay: 6
86 GATES OF THUNDER (Hudson Soft/Red, October 1992)
*Super CD-ROM2 game
This great shooter that came with the TurboDuo is kinda short with only 7levels but it's still very intense much like Techno Soft's Thunder Force III on the Sega Genesis. The three games other games included on the disc (Bonk's Adventure, Bonk's Revenge, and the secret Bomberman) are also cool.
*Save option available.
For 1 to 5players.
graphics: 8
sound: 8
gameplay: 10
NEW!!
55 GODZILLA (1993)
The one on one fighter featuring over 10giant monsters and slow, sluggish gameplay with rough controls. One of the rarer TurboDuo games out there, I just wish it was better.
*Save option available.
*Rare Duo game*
For 1 or 2players.
graphics: 6
sound: 7
gameplay: 4

62 IMPOSSIMOLE (Gremlin, 1991)
you're a mole with super powers trying to stop evil aliens. A short but very challenging action platform game that takes some getting use to. The ending is pretty weak.
For 1player only.
graphics: 7
sound: 7
gameplay: 5
NEW!!
22 JACK NICKLAUS CD TURBO GOLF (Accolade, 1990)
*TurboGrafx-16 CD game.
With very annoying load times per turns, this game is easily forgettable. Best to avoid this slow and boring golf game.
For 1 to 8players.
graphics: 2
sound: 3
gameplay: 2

63 JJ & JEFF (Hudson Soft, May 1990)
This 2meg game looks alot like the original Super Mario Bros by Nintendo. A very, VERY tough action game with 24levels and loads of secrets to discover. The ending is really goofy....... much like the game itself.
For 1player only.
graphics: 6
sound: 5
gameplay: 7

54 KEITH COURAGE (Hudson Soft, August 1989)
a good but repeatitive 2Meg action title.
For 1player only.
graphics: 6 ............. great but very repeatitive looking.
sound: 6
gameplay: 5
67 KLAX (Tengen, 1990)
Despite some terrible voice samples this is a good 2meg version of the falling tiles arcade game.
For 1 or 2players.
graphics: 6
sound: 4
gameplay: 7
NEW!!
57 LAST ALERT (NEC Avenue, 1990)
A Rambo-like storyline in a Contra style game with lots of levels and REALLY bad voice acting. You can easily tell that this was NEC of America first try at translating Anime.
For 1player only.
graphics: 6
sound: 3
gameplay: 5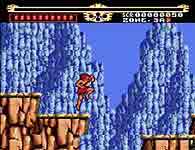 79 LEGENDARY AXE (JVC, 1989)
A unique 2Meg adventure/action platform title with a cool powerful axe and 6 challenging levels. Goron must rescue his girlfriend Flare from the evil armies of Jagu. The endboss has to be seen to believe.
For 1player only.
graphics: 7
sound: 7
gameplay: 6

66 LEGENDARY AXE II (JVC, 1991)
A ok 2meg sequel that plays nothing like the first Legendary Axe.
For 1player only.
graphics: 7
sound: 5
gameplay: 6

BEST TURBOGRAFX-16 GAME!!
GAME OF THE MONTH COLLECTION!!
88 MILITARY MADNESS (Hudson Soft, 1990)
A very additive 3meg war board-like game where you have to take turns to fight. Loads of different tanks and jets ready for war with 32levels in all.
For 1 or 2players.
graphics: 5
sound: 6
gameplay: 9

NEW!!
65 MONSTER LAIR (Sega/Hudson Soft, 1990)
*TurboGrafx-16 CD game.
The Second offical game for the TurboGrafx-16CD system is this shooter starring Wonder Boy and an princess. Quite difficult with 14levels.
For 1 or 2players.
graphics: 7
sound: 7
gameplay: 7

51 MOTO ROADER (NCS, 1990)
An 2meg overhead racer similar too RC pro am on NES. I hate the controls.
For 1 to 5players.
graphics: 4 ............ other than the swimsuit models this game looks very plain.
sound: 6
gameplay: 7




78 NINJA SPIRIT (IREM, 1990)
A really short but intense 4meg action game with some awesome looking weapons like the triple ninja stars and dynamite sticks. A young ninja named Moonlight sees his father killed by a renegade ninja clan, can he get revenge?
For 1 or 2players (alternate)
graphics: 8 ........... just look at that srceen shot!
sound: 7
gameplay: 8

69 ORDYNE (Namco, 1990)
A two player cartoon-like shooter with the ability to buy weapons and other items in airshops. Fairly fun and can be also found on Namco's 4th Museum title on Playstation called C.
For 1 or 2players
graphics: 6
sound: 7
gameplay: 7

49 PAC LAND (Namco, 1990)
A standard jumping platformer and not a maze game like the old arcade games.
For 1player only.
graphics: 7
sound: 4
gameplay: 2
NEW!!
65 PANIC BOMBER (Hudson Soft, 1994)
*Japanese SuperCDrom2 game
It's not just a Virtual Boy game after all. The graphics are colourful but unexciting but the game can be very addictive once learned.
For 1 or 2players.
graphics: 5
sound: 5
gameplay: 7

77 PARASOL STARS (Working Designs/Taito, 1992)
A fun and choatic sequel to Bubble Bobble 2 (Rainbow Islands). Loads of power ups and levels with cantoony graphics.
*Rare TurboGrafx game*
For 1 or 2players.
graphics: 7
sound: 6
gameplay: 8
71 POWER GOLF (Hudson Soft, 1989)
Golf I actually like because it was easy to play much like Hot Shots Golf for the Playstation.
For 1 to 3players.
graphics: 6
sound: 6
gameplay: 8

NEW!!
72 PSYCHOSIS (1991)
The wierd looking shooter with lots of on screen action and 5 challenging levels. Fun but the fire weapon was the only weapon worth picking up.
For 1player only.
graphics: 8
sound: 5
gameplay: 7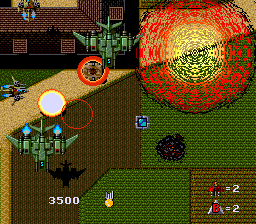 63 RAIDEN (Hudson Soft, 1993)
the only 6meg game for the Turbografx-16 is this extremely hard arcade shooter.
*Very Rare TurboGrafx game*
For 1player only unfortunately.
graphics: 7
sound: 7
gameplay: 7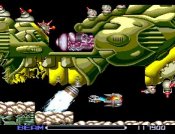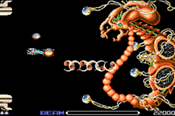 GAME OF THE MONTH COLLECTION!!
81 R TYPE (IREM, 1987, 1989)
One tough as nails game but it's also one of the best shooters ever made. Each stage is totally different from one another and this the first game to use the ChargeBeam weapon by holding down the fire button, a cool idea! Unlike the PCengine counterparts, this game has all 8stages in it and is a complete 4meg game. Almost arcade perfect!
For 1player only.
graphics: 8
sound: 7
gameplay: 9
52 SHADOW OF THE BEAST (Psychosis, 1992)
*Super CD-ROM2 game
I hate these types of action games, it's just way too hard and the animation sucks.
For 1 player only.
graphics: 6
sound: 6
gameplay: 4

65 SIDE ARMS (Radiance, 1990)
A very hard and long 2meg shooting game with 11levels and a lousy ending.
For 1player only.
graphics: 7
sound: 8
gameplay: 7

35 SILENT DEBUGGERS (1991)
A pointless Doom clone on a system with no 3D hardware.
For 1player only.
graphics: 6
sound: 4
gameplay: 3

57 SINISTRON (ICS, 1991)
Another good looking shooter with a very high difficultly in the last 3levels. The ending in this one is really bad though.
For 1player only.
graphics: 7
sound: 7
gameplay: 5

69 SOLDIER BLADE (Hudson Soft, 1992)
An 4meg Star Soldier spin off released close to the turbo's death. Good for shooter fans but it's nothing too original unfortunately. A very rare game now of days!
*Save option available.
*Very Rare TurboGrafx game*
For 1player only.
graphics: 6
sound: 6
gameplay: 6

63 SOMER ASSAULT (Atlus, 1992)
"It hops down stairs in loner or pairs!"
*Rare TurboGrafx game*
For 1player only.
graphics: 5
sound: 2
gameplay: 7

56 SPACE HARRIER (NCS/Sega, 1990)
Why in the world would NEC approve this old game, even after Sega released Space Harrier II for the Sega Genesis in 1989. Includes all 18levels but doesn't look as smooth as the arcade original or 32Xgame.
For 1player only.
graphics: 6
sound: 5
gameplay: 4

69 SPLATTERHOUSE (Namco, 1990)
A horror action game done right, finally! Gruesome enemies and background effects with cool eerie music help to bring Splatter House to life. Your hero, Rick, is cursed by a strange red mask and your girlfriend is trapped inside an house of horrors. Journey though 7levels to rescue her if you can? Has a unique ending, I just wish the game wasn't over so quick.
For 1player only.
graphics: 7
sound: 7
gameplay: 6
80 STREET FIGHTER II CHAMPION EDITION (Hudson Soft, 1993)
*Japanese*
The HUGE 20meg card of the second version of the on going Street Fighter II series. Nothing new but it's cool to see this game on a 8-bit system.
For 1 or 2players.
graphics: 8
sound: 6
gameplay: 8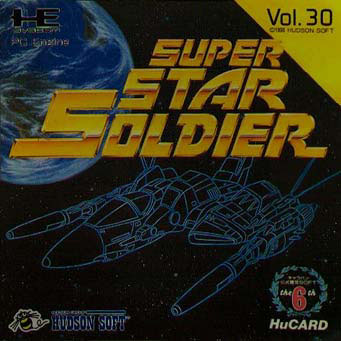 GAME OF THE MONTH COLLECTION!!
82 SUPER STAR SOLDIER (Hudson soft, 1990)
It's SUPER Star Soldier this time. Plays simalar to Compile's Blazing Lazers but this shooter game is a lot harder. I love the game music.
*Rare TurboGrafx game*
For 1player only.
graphics: 6
sound: 9
gameplay: 8
NEW!!
72 SYD MEAD'S TERRAFORMING (Right Stuff, 1993)
One of the final games released for the TurboDuo. A very intense shooter with loads of enemies of screen at a time and three cool weapons to choose from. This game also as some incredible looking backgrounds by the acclaimed artist Syd Mead.
*Rare Duo game*
For 1player only.
graphics: 9
sound: 7
gameplay: 7

NEW!!
57 TALESPIN (1991)
A standard action game starring a bear pilot. Features 7 short levels and a sucky ending. Not a must have that's for sure.
For 1player only.
graphics: 6
sound: 6
gameplay: 6

NEW!!
55 TIGER ROAD (NCS/Capcom ,1991)
I never played the arcade game but I hope it's not like this average action game. Fighting the bosses can be very tedious.
For 1player only.
graphics: 5
sound: 5
gameplay: 5

63 TRICKY KICK (IGS, 1991)
A very tough puzzle game featuring themed characters all kicking their enemies.
For 1player only.
graphics: 5
sound: 5
gameplay: 5
73 VALIS III (1992)
*TurboGrafx CD game.
Before Xena warrior princess, there was Yuko and the sword of Valis. Includes new levels not found in the Sega Genesis game.
*Save option available.
For 1 player only.
graphics: 7
sound: 8
gameplay: 7

NEW!!
70 VEIGUS TACTICAL GLADIATOR (1990)
A odd looking game with a floating robot as the main character but the robot is packed with weapons at least and the game has 10levels to conquer. This game is not only original but it also has a cool ending.
For 1player only.
graphics: 7
sound: 7
gameplay: 7

63 VICTORY RUN (Hudson Soft, 1989)
The primere 2Meg racing title for the TurboGrafx-16. The graphics look very chunky much like Sega's out of date Out Run. The gameplay is very difficult because your car can recieve damage over the drive down 8tough levels.
For 1player only.
graphics: 5
sound: 6
gameplay: 7

61 VIGILANTE (Irem, 1989)
Remember Kung Fu?? this is a very close remake of the arcade beat em up Vigilante. Go though 5 short levels of street trugs to save your kidnapped girlfriend. You can even pick up Nunchuncks to help you out on your mission, but your enemy can use weapons too.
For 1player only.
graphics: 6
sound: 6
gameplay: 5

32 YO BRO (1991)
A cheesy skateboarding game starring some odd bear, and it's way too hard in the later levels.
For 1player only.
graphics: 5
sound: 6
gameplay: 7
87 Y'S BOOK I & II (Falcom, 1990)
*TurboGrafx CD game.
The offical thrid release for the TurboGrafx-16 CD is this huge RPG that really took advantage of the new CD system back then. Plays just like the Sega Master System game Y's the Vanished Omen but it's much deeper than that game after will be. One of the better RPG's for any system.
*Save option available.
For 1player only.
graphics: 6
sound: 10
gameplay: 9

Don't agree?? Email me!!