SEGA MASTER SYSTEM (1987-1991)
They ruled the arcades and now they enter the home market for the first time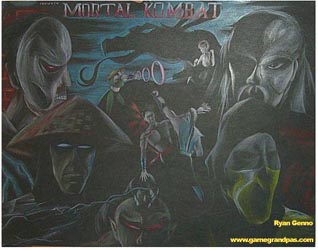 Unbelievable but true, Mortal Kombat was released for the Master system.....in Europe.
In 1986, I saw some awesome arcade games at the time. Games like Space Harrier and Out Run blew me away back then with their amazing 3Dgraphics and I started to become a SEGA fan. Now out comes this new game system BY SEGA, a 8-bit machine released by the Toy company Irwin in 1987 that looked even better than the 8-bit Nintendo (at least on the screen shots). I was VERY disappointed to find weak arcade translations of After Burner, Space Harrier, and many others which often bored quickly. Sega (much like Atari) got hammered by new comer Nintendo and there NES game machine.

Sega did not give up though, it was cool to see a TWO-PLAYER Double Dragon (although it sucks) and a home version of R TYPE (which was released by Nintendo in the arcades, btw) plus we can't forget Phantasy Star, a four meg role playing game that killed any RPG (even Final Fantasy and Dragon Warrior for NES) for the old Nintendo. Buy a Genesis, then the Master Converter for under 20bucks and avoid the Master system if you can.
Rating: 58/100 a good system if you can find the right games.

Rare Scale: 5/10 it can be hard to find a sega master system with the special 3Dglasses.
COOL SegaMS TOYS
3d glassics
The expensive black specs will only work with certain games like Maze Hunter 3D, Missile Defense 3D, and Out Run 3D but they add unique looking 3D effects to a machine with no true 3D capabilities.

SMS Contoller
They kinda suck. The D-pad is too unrespondsive and there are only two buttons as well. The small controllers are even backward compatible on some systems like the Atari 2600 and 7800 to some degree.
GOOD POINTS:
*Actually stronger than the 8-bit NES.
*Some units have built in games.
*European games are fully compatible and some are really good.

BAD POINTS:
*Awful sound capibilites
*To pause your game you need to press a button on the system itself.
*Lack of most thrid party support thanks to a Nintendo clause.
Common Sega Master games:
Hang on/Safari Hunt
Great Football
Great Baseball
Astro Warrior
Global Defense

Rare Sega Master games:
Phantasy Star
Out Run 3D
Y's
Golden Axe Warrior
Sonic the Hedgehog (Last game released here)

Top Ten
(yeah right, as if Phantasy Star wouldn't win)
#1. PHANTASY STAR
2. Y'S
3. GOLVELLIUS
4. R TYPE
5. MIRACLE WARRIORS
6. GOLDEN AXE
7. ALEX KIDD IN MIRACLE WORLD
8. SAGAIA
9. GALAXY FORCE
10. OUT RUN

Disappointing: AFTER BURNER

Worst: GREAT FOOTBALL
Underrated: GOLVELLIUS
Don't agree with my Top Ten?? Email me!
Please visit my guestbook!, or I'll contiune the lawsuit!