COLECOVISION (1982-1984)
you'll swear it was a NES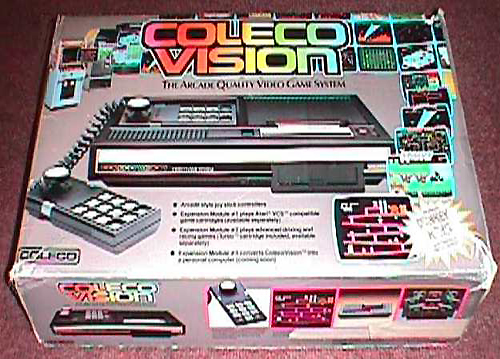 This 8-bit machine looked awesome at the time, it was even backed by Nintendo themselves and Donkey Kong was the offical pack in game. The ColecoVision was meant to be superior choice to the Atari 2600 and Mattel Intellivision back in 1982. It had near perfect arcade translations of several hit games like Donkey Kong, Frogger, and Mr. Do just to name a few. The system was a solid hit for Coleco and it was out selling the other systems at a time but not even the all powerful ColecoVision could survive the great market crash of 1984 and the failed Coleco Adam computer.

The Colecovision was just featured in a SouthPark episode named Chicken Pox where the poor Kenny still had one on the old black and white TV, he was being made fun of by the others. I still remember playing it at a friend's house and admiring it myself. A good system if you can get the right games, like Frogger.
Colecovision Rating: 60/100 good selection of retro titles available but no Pac Man.

Rare Scale: 7/10 it was popular! But it was very short lived!
TOP TEN (I need more games!)

#1. FROGGER
2. MOUSE TRAP
3. LADY BUG
4. ANTIARTIC ADVENTURE
5. VENTURE
6. ZAXXON
7. DONKEY KONG
8. Some game
9. I don't know
10. ?????

Please visit my guestbook!, but nobodys forcing ya, so no pressure!