PANASONIC'S 3DO (1993-1996)
A VERY strong system with movie like graphics and a scary price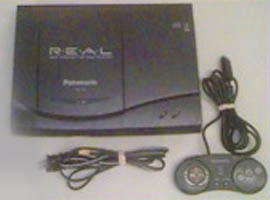 "THIS SYSTEM WAS 1GRAND!!!" I'm not kidding here, the first time I saw this thing in real life, it looked good, but not a thousand bucks good. Let me explain; this is Canada, and that alone nearly doubles the price, plus their are not too many of these 3DO's going around, so it was mainly aimed for the rich video gamer (who ever that is??). I finally got one when it was at death's door in 1997 for a hundred and I still think I got ripped off.

If there one cool thing about this 32-bit system, it's the fact you can use the 3DO connection wires for the Playstation too (the older Playstation model anyway) and vice versa. It also started the Gex and Need for Speed francises. There are also other 3DO's released by Goldstar and Samsung that are different than the 3DO FZ10pictured above. Avoid this now outdated piece of hardware and go for any other 32-bit system.
Rating: 35/100 no one game is turly great and some are very forgettable.

Rare Scale: 3/10 still alot of 3DO's out there, some unsold.
COOL 3DO TOYS
3do Contoller
Very hard and uncomfortable at times that's alot like the Sega Genesis controller but with more buttons. There is a serial port right on the controller to add another controller for multi-player games.......... which was a bad idea because your friend could unplug you easily to creat.


The 3do girl Donna
GOOD POINTS:
*The first ever CDonly based video game machine and it's 32-bit as well.
*The real video was always clear and full screen for most games.

BAD POINTS:
*Tons of crappy, stupid, and boring Full Motion Video games.
*The whole system was so overrated.
*The price was the nail in the coffin.

Common 3DOgames:
Gridders
Out of this World
Fifa Soccer

Rarest 3DOgames:
Lucciece's Quest
Bust a Move
Show Job
Star Control 2
Sailor Moon(Japanese)

Top Ten
(what can I say, I like Samurai Shodown)
#1 SAMURAI SHODOWN
2. GEX
3. TWISTED
4. SUPER STREET FIGHTER II TURBO
5. ROAD RASH
6. BUST A MOVE
7. REBEL ASSAULT
8. RETURN FIRE
9. GUARDIAN WAR
10. DEMOLITION MAN

Disappointing: STAR BLADE
Worst: RISE OF THE ROBOTS
Underrated: TWISTED
Don't agree with my Top Ten?? Email me!
Please visit my guestbook!, and then email me... and give me money!