SEGA DREAMCAST (1999-2001 it looks like)
Sega tries again, but history repeats itself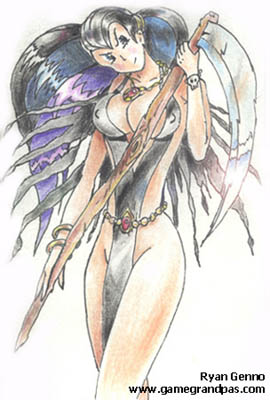 My next victim!
UPDATE! Febuary 1, 2001

IT'S OVER!! Sega of Japan has decided to crease production of the Sega Dreamcast effective Spring 2001 and that means this year will likely be the last year of the 128-bit DC. Sega will now focus its efforts on software, not hardware. That means Sonic, Virtual Fighter, and other Sega big names will now be on other game systems like the Playstation2, Game Boy Advance, and X-Box. Virtua Fighter 4 may even come out for the PS2 later this year. As you can see I was totally wrong about the 'here to stay' statement. I'm not a happy man but maybe I can buy some Sega games cheap now. 'A shame!'

December 1999
"Welcome back Sega!" It's safe to say that the 128-bit Dreamcast is here to stay. Sonic Adventure, Soul Calibur, and NFL Y2K were all huge hits and that free modem is cool too (the PS2 won't even have that feature). I can't wait for the new Phantasy Star game and I also wanna try Shenmue too. If you have the cash, 'go for it!'

November 2000
In 2000 it been an up and down year for Sega with Crazy Taxi and NFL Y2K1 doing well while others like WWF Royal Rumble and Time Stalkers bombed big time. Sega needs more triple A titles to stay more competitive next year.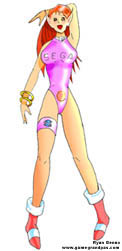 This is Sarah! The Segagirl!
This is a special report by my friend who just won a DC.
System Features:
(by Ni-CD)
Pros:

Real time rendering (wow mom! Look at those graphics!)
33.6 Modem, built in! (yeah, not v.90 but hey! its the first game system to ever go ONLINE! without the use of a add on device)
Greater Capacity "GCD"s (could be an issue, since it is not a standard...eliminates pirating...for now.)
OS (Operating System) is on each CD (allows for Operating System upgrades with the release of a new game)
VMS (Visual Memory System--very cool way to manage your games and data!)
Awesome dolby-digital surround sound
Ability to use SVHS cables
Ability to use a computer monitor for 1024x768 resolution graphics
and much much more...

Cons:

Slow Modem
Rendering rough at this point (hey, they're working with brand new technology...give em a break)
Most games are fighting games (dang I don't like those type of games)
GCDs not standard--not a CD, not a DVD; how well supported?
Carries the 'SEGA' brand name (hey, they are the suckiest of all suppliers right now)
Stupid people will not allow the light gun released because of all the lunatic kids in the U.S. shooting other kids these days
COOL DC TOYS
Virtual Memory Unit
Sega copies Sony's idea of their Japan only device the PocketStation and we finally see what these miniture Gameboy's are all about. The batteries can really wear out if you use to LSD screen on the go and the VMU only holds 200megs of space but it's still very unique.

DC Contoller
The DC Controller is virtually identical to the 3d Sega Saturn controller that originally came with Nights but there are less buttons and more ports for the Sega Jump Pak and VMU. It feels a little too bulky at times when compared to the PlayStation controller and the analog and Dpad feel too loose but it's still a great controller overall. Only works on the Sega Dreamcast.
System Rating out of 100: 81/100
TOP TEN
(the first are still the best........... so far. SHUT UP AND BUY SKIES OF ARCADIA!!)

#1. SKIES OF ARCADIA
2. SOUL CALIBAR
3. GRANDIA II
4. SONIC ADVENTURE
5. STREET FIGHTER ALPHA 3
6. SEGA SWIRL
7. CRAZY TAXI
8. JET GRIND RADIO
9. MARVEL VS. CAPCOM 2
10. SHENMUE

DISAPPOINTMENT: WWF ROYAL RUMBLE
WORST: GUN BIRD 2
UNDERRATED: SEGA SWIRL

Please visit my guestbook!, but don't mention my name to the police!