SECRET CITY 8-bit NINTENDO (NES)

1943 the battle of Midway
level 23 password: TY19U

BLASTER MASTER
One of the hardest game out there. Don't worry though, it is beatable.

If you hold down the A button while firing in the overhead mode you'll be able to strafe and shoot.

Kill bosses 2,4,6,7 easily by using a bomb and then quickly pause it while the creature it is flashing. Wait aboot 30-45seconds and it should be finished. Everybody should know this trick by now.
Kill boss #1 easily: Just use your bombs and not your gun, stay inside it's ring. Kill it before it has a chance to hit you.
Kill boss #3: Use the fully powered gun this time and stay far away from them. The first batch appear near the top.
Kill boss #5: Don't fight this crab WITHOUT a fully powered gun. Stay at the bottom center of the screen and just shoot it with that gun.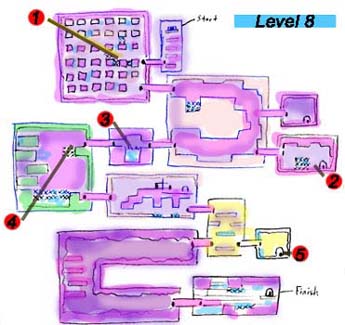 LEVEL 8 of Blaster Master is pretty dam tough, so I drew a map! Numbers 1 though 5 give some hints.
1. SHORTCUT!! Drive straight and fall though the set of spikes. You'll lose 2points of health but you'll save lots of time and hastle.
2. If you go inside this room you'll have a chance to get some 'Hover' powerups. It is important for the spot with the 3 on it.
3. Use Hover to get across from this bed of spikes. It should take about 3 to 4units of Hover power.
4. ANOTHER SHORTCUT!! Jump though to the first set of spikes and land at the exit door.
5. If you enter this room you'll get Gun powerups. Just re-enter to get full power if you need it.
Kill boss #8A: Kill the guardian boss (the one on the game cover) by using bombs on it's head when the bouncing orbs are safely at the side.
Kill boss #8B: To kill this powerful gold soldier with the whip, you'll need to lure him to the right wall so that he now can't whip you from a angle. Continue to bomb him like crazy while just standing right under him or it may not work. Good luck.

CASTLEVANIA III DRACULA'S CURSE
10 lives:
At the name register screen enter your name as HELP ME and you'll start the game with Ten lives.

CONTRA
30 lives:
At the Contra title screen press up, up, down, down, left, right, left, right, B, A, (select for 2players) then start.
DEADLY TOWERS
Ultimate password:
Enter 'EF' or 'FE' as the first letters and you'll be fully powered up! You can now go to the far right gate (it should now be open) and finish the final level.

DR MARIO
Reset the game:
During any game Press Select, Start, B, A at the same time to reset the game from the controller.
GRADIUS
Power up code:
Pause the game and press Up, Up, Down, Down, Left, Right, Left, Right, B, A then Start.
Warp a Level:
Kill the boss in or under 5seconds to skip a level, this is easier to do with the laser weapon.



GUARDIAN LEGEND
GO TO THE COMPLETE GUILD FOR THIS GAME
END PASSWORD!!
hWml ju0m mqmm pQKk
sGnM SSv5 r2uc rZfP
This code gives 21units of health, 4guns, 7seven, all weapon upgrades, and 222EE bombs.
SOUND TEST:
Hold down A and B before you turn on the game.
SHOOTER LEVELS ONLY:
Enter password: TGL then end.

GHOST N' GOLBINS
Level select:
At the title screen hit and hold Right and press B three times, Hold Up and press B three times, Hold Left and press B three times, and Hold Down and press B three times.

LEGEND OF ZELDA
Play the second quest from the start:
Enter your name has ZELDA to play an altered version of the original game with Dungeons and maps in different areas. Also know as the second quest.

LIFE FORCE
30 lives
At the Life Force title screen press up, up, down, down, left, right, left, right, B, A, (select for 2players) then start. look fimilar??
MEGA MAN
Kill the bosses:
CUTMAN: USE GUTS POWER BLOCKS
BOMBMAN: USE FIRE SHOT
FIREMAN: USE ICE BLAST
GUTSMAN: USE BOMB
ICEMAN: USE ELECTRIC SHOCK
ELECMAN: USE CUT BLADES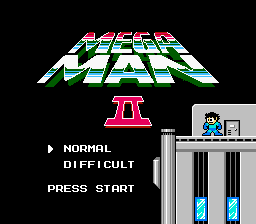 MEGA MAN II
| | |
| --- | --- |
| METAL MAN | USE QUICK |
| WOOD MAN | USE ONE FULL POWER HEAT SHOT |
| AIR MAN | USE LEAF SHIELD |
| CLASH MAN | USE AIR |
| BUBBLE MAN | USE METAL |
| FLASH MAN | USE CLASH |
| QUICK MAN | USE FLASH AND NORMAL WEAPON |
| HEAT MAN | USE BUBBLE LEAD |
| ROBO DRAGON | USE QUICK |
| GATE WALL | USE QUICK |
| GUTS DOZER | USE QUICK |
| MULTI GUNS | USE CLASH AND #3 |
| DR. WILY SHIP | USE NORMAL |
| ALIEN WILY | USE BUBBLE LEAD |
METRIOD
Armorless Samus and most weapons and items: enter password:
JUSTIN BAILEY
------ ------
MILON'S SECRET CASTLE
Contiunes
After you defeat the first the first boss and get the crystal, you'll be able to contiune your game after you die by holding Left and then hit Start.
RAD RACER
Stage Select:
Start the game and select a car. Now, on the demo screen press B one time less than the course you want (so, for course 5, press Bx4), or press Bx60 if you want to see the ending of the game. Now, hold U+R and press START.
Continue:
After losing a race, hold A and press START to contiune.
RAD RACER II
Stage Select:
On title screen, press B one time less than the # of the track you want, then hold U+L and press START.
Continue:
When the title screen reappears, hold A and press START.
STAR SOLDIER
Secret Weapon:
On the title screen, Press on Controller 1: SELECTx10. On Controller 2: press D+R On Controller 1: U+L+A+B and press Controller 1: Start 2times. Now, use SELECT to choose between the five-shot and the laser.
Game Genie Codes:
1: SZOEAPVG-Infinite lives
2: PEOAPPAA-Start with laser
3: GXVPXTVG-Infinite shield power
4: ZAOOOYIE + ZENOGLIE - Double shield power.

SUPER C
10lives
At the Super C title screen hit Right, Left, Down, Up, A, B, (select for 2players) then Start.
SUPER MARIO BROS. 3
Warp Whistles:
In world 1-3, squat on the first white block (it looks like it has screws in it) until you fall through it. Run to the end of the world, and you will end up BEHIND the background blackness, and find Toad's House.
In the world 1 fortress, go to the platform containing a Super Leaf block and a door. Grab the Super Leaf, run, and fly straight up along the wall above this platform. Press right, and you will land on top of the ceiling (out of view). Walk right until you are stopped, then press Up.
In world 2, take the hammer and smash the rock in the top right corner of the world map to reveal a secret area. Kill the wandering Hammer Bros. (Fire Bros.) to get the last whistle.

TETRIS
Mario and other Nintendo characters will make a cameo arrearence on Tetris if you're in the Type B game on Level 9, the higher the difficultly, the more characters you'll see.

WORLD RUNNER 3D
CONTIUNE:
Hold down A and hit Start at the game over flying dragon screen and you'll start on the last world you died on.

If there are problems, Email us.