Down and Dirty Reviews: Sony Playstation2
We now have more reviews other than Gradius now.
the scores are out of a 100

If you played it and got a review, feel free to send it in! genno@bconnex.net
SCORE / NAME
NEW!!
59 BOUNCER (SquareSoft/Dream Factory, 2001)
Three different fighters try to rescue their kidnapped friend from some strange organization group of tugs. A really basic 3D beat em up (much like the original Fighting Force) with some really great graphics and a unique storyline. Rent The Bouncer before you buy it though.
For 1 or 2players
graphics: 8
sound: 7
gameplay: 5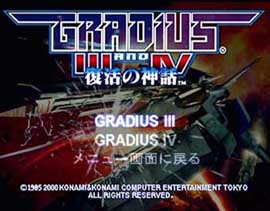 GAME OF THE MONTH COLLECTION!!
75 Gradius III & IV (Konami, November, 2000)
At long last! we get another Gradius game (actually two Gradius games in one) after all these years. I was worried this game wouldn't make it over here from Japan but Konami proved us wrong. Both shooters are tough as nails with loads of enemies on screen at one time, so the challenge level is high no matter what difficulty you're set at. Gradius III no longer has the annoying slowdown found in the Super Nintendo version but it's also missing some the weapons in the Edit mode like the Mega Crush and Twin Back missiles.
Gradius IV doesn't even have an edit mode like III does. Just select from one of four set ups and your ready to go, which is somewhat of a disappointment. The graphics in IV actually use the PS2 real capibilities like morphmation and smooth detail, definitily not as impressive as the other PS2 titles on the market but this is a true 2D shooter so it doesn't have to be.
The real joy in both these games is passing that really difficult level that just seems impossible to your friends or seeing your ship fully powered up with all four options. Gradius III & IV is recommend to all old school shoot em up fans who are begging for a real challenge from their PS2.
For 1 or 2players (alternate)
Graphics: 5
Sound: 7
Gameplay: 8
NEW!!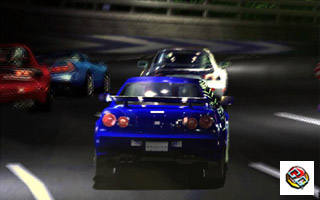 93 GRAN TURISMO 3 A-Spec (Sony, July 2001)
Although these hyper realistic racing games are not really my favorites because of their serious nature but this game is loaded with such spectacular presentation that it blows the mind. Nissan, Ford, Jaguar, Toyata, and tons more lend their licenses for this huge PS2game that's really hard to put down because of all the modes to try out.
For 1 or 2players
graphics: 10
sound: 9
gameplay: 10
NEW!!
82 KLONOA 2: Lunatea's Veil (Namco, July 2001)
The sequel to the underrated Playstation One title puts Klonoa the dog with long ears in a strange new dreamworld. A gooding looking cartoony 3Dside scroller with lots to explore and fairly simple gameplay for anybody to master. Hopefully the upcoming Crash game on the PS2 will be as good as this?
For 1player only
graphics: 8
sound: 6
gameplay: 7

55 ONI (Rockstar, 2001)
A hard to control 3D action title starring a babe with guns. The levels are overall not very exciting despite being in the future and the re-aiming of the gun gets very annoying. You also HAVE to use the whole controller if you wanna get anything done on your missions. Rent it first before you believe the hype surrounding this title.
For 1player only
graphics: 5
sound: 5
gameplay: 7

61 ONIMUSHA (Capcom, April 2001)
Resident Evil in feudal Japan, even controls the same like the old 32-bit games which really sucks. Am I the only one who doesn't like these types of games?? The story seems OK though.
For 1player only
graphics: 8
sound: 8
gameplay: 6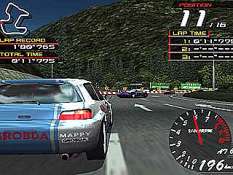 73 RIDGE RACER V (Namco, October 2000)
It looks great and plays fairly well but the Ridge Racer series really hasn't changed much over the years, even on the advanced PS2.
For 1 or 2players
graphics: 8
sound: 8
gameplay: 7

57 SILENT SCOPE (Konami, 2000)
Some of you may like the controls of this sniper gun game, others may not. Rent it first.
For 1player only
graphics: 6
sound: 7
gameplay: 6

48 SUMMONER (THQ, 2000)
A strange action RPG featuring boring exploration, out dated 3Dgraphics.
For 1player only thank God.
graphics: 6
sound: 5
gameplay: 5
NEW!!
68 STREET FIGHTER EX 3 (Capcom/Akira, October 26, 2000)
The PS2 version of Street Fighter features the same tired and true gameplay of the past Street Fighter games but now there are new tag team options available.
A lot of the game still looks too goofy though especially when compared to other fighting games like Dead Or Alive Hardcore or Tekken Tag Tournament and the new character edit mode is very limited because you only have one character to choose from this time and he can only learn six moves which is pretty lame.
For 1 to 4players
graphics: 6
sound: 5
gameplay: 7

NEW!!
63 SUPER BUST A MOVE (Acclaim/Taito, 2000)
The new Bust A Move game plays just like all the last ones. I really can't find too many improvements here but at least the graphics have changed. Kinda looks like Sega's Chu Chu Rocket now.
For 1 or 2players
graphics: 4
sound: 3
gameplay: 7

81 TEKKEN TAG TOURNAMENT (Namco, October 26, 2001)
Most of the characters from Tekken 1, 2, and 3 are included in this new PS2 game. The new tag in and out is kinda limited (compared to Dead or Alive 2 anyways) but it's still fun and the graphics are very sharp looking and even the clothes and the facial expressions are realistic. Too bad the backgrounds graphics are still non interactive unlike the Virtua Fighter series because the backgrounds look incredible.
For 1 or 2players
graphics: 8
sound: 7
gameplay: 7
NEW!!
72 ZONE OF ENDERS (Konami, April 2001)
"Anime fans are gonna love this!" A beauiful looking mech game by the creators of Metal Gear Solid. A young boy unwillingly finds a giant mech and is forced to fight for his life in a epic war. Easy controls and some challenging level objectives should keep you busy for a few days but the game is kinda very short in length making it a questionable purchase. The game also comes with with a free playable demo of Metal Gear Solid 2; one of the most anticipated games for the PS2.
For 1player only
graphics: 9.......... one of the best looking video games ever.
sound: 9
gameplay: 7
Don't agree?? Too bad!!